Millions of Movies to Choose from, ONE Worth Watching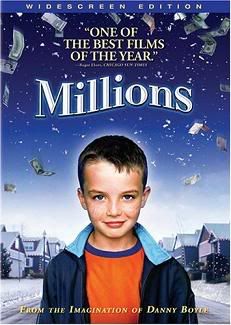 Looking for a universally-appealing, safe, fun, and substantive movie to watch and discuss with your small group? With a date? I couldn't recommend more highly the quirky, family-friendly gem 'Millions' [PG] as perfect fodder for people of faith who want to deepen their cultural engagement and don't want two hours of their precious Saturday night wasted.
In short, 'Millions' is the story of a young boy who mysteriously comes upon a large bag of money and wants to do good with it - i.e. helping the poor - to the extent that he understands the good he can do with it. Of course, outside (older) influences shake up his plans, but his uniquely devout spirituality (he communes/is fascinated by saints) keeps him uncorrupted. The movie is about the constructive and destructive power of money (a potent discussion piece in its own right), yes, but moreover I view/enjoy it as a greater overarching parable on how we as people/students of faith are to live with all that we are blessed with and realize the power of the money we hold --- and the good (or evil) impact it can have on the greater world around us.
I don't want to give much away, but suffice to say that as much as his young mind can comprehend such issues - Damien (the protagonist) wishes to see the MDGs fulfilled with his money --- money he sees as a gift from God. His innocence and goodwill remind me of a young girl Katherine (my hero, for the record) who I've had the pleasure to come in contact with from Abilene, Texas.
Katherine learned about AIDS orphans and the ONE Campaign on a TV special while her mom was doing her hair and was so moved that she wouldn't rest until she knew she had done something to help those children "without mommies and daddies and who can't go to school." So I sent her some ONE sign-up sheets finally...and she spent hours making her own posters and a big sheet that read 'Hands of Hope' for the local Kidfest in June. When all was said and done she had collected 350 signatures for the ONE Campaign - more than I've ever collected at one event!
When she sent me the fruits of her labors, included in the package was a letter in "Calvin and Hobbes" writing that read: "Dear Seth, I hope everyone can live. I will help. Love, Katherine."
It brings a lump to my throat every time I share that story, because what simpler prayer or mantra can we have than her letter? We can debate policy, aid, trade and hunger until we're blue in the face - but it really all boils down to Katherine's letter, doesn't it? And whether we agree or not. And by agree, I mean doing everything in our power to make it so.
Watch 'Millions' (a 'fictitious Katherine'). Debate its merits and viability. Question how you would use the money Damien comes upon. Question how you're holding on to your money now --- and what uses it's serving. Question how your tax dollars are being used --- are they being used so that 'everyone can live'...and live fully? If nothing else, enjoy the movie - knowing that locally and globally, like Damien and Katherine, you can be a neighbor to millions.
« Colombia Plumpy'nut! »