MDG Yeah You Know Me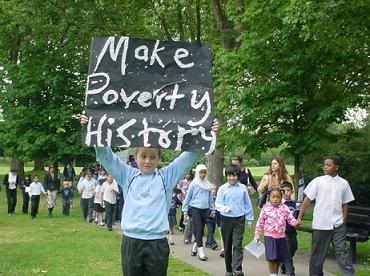 ...but do you know them?
This year, Bread for the World and other organizations like the Millennium Campaign took stock of where we are as a country and world in achieving the MDGs (the Millennium Development Goals). The reason this year was especially important is because we are now halfway to where we should be in meeting the goals that were set in 2000 if millions are to be liberated from extreme poverty, chronic hunger and more by 2015.
To read the UN report and a good summary of how we (the U.S. and 188 other member nations of the UN) are doing as we pass halfway point, read this fantastic article that simply and effectively breaks down each of the 8 goals and where and how progress has been made around the world.
Topping it all off, keep an eye out in the coming months for the rolling out of Bread for the World's 2008 Offering of Letters Campaign, where we will push our elected leaders to fund poverty focused development assistance programs in the U.S. budget at high-enough levels that we can do our part as a country in realizing these vital goals. You can even write them a letter today to start encouraging them to think about these priorities now!
One last concrete way to get the ball rolling on MDG awareness - STAND UP! Click on that link to learn how you and those in your church or school can join millions around the world in standing up in unity against poverty!
« Extra! Extra! Student Lobby Day this Month in Washington, DC on the Farm Bill! The Beatitudes, Faith and Politicians »
TrackBack
TrackBack URL for this entry:
http://www.typepad.com/services/trackback/6a00d8341d945753ef00e54eed6b248834
Listed below are links to weblogs that reference MDG Yeah You Know Me: