On the 1st Day of Christmas, my true love gave to me
...a bill to help achieve the MDGs!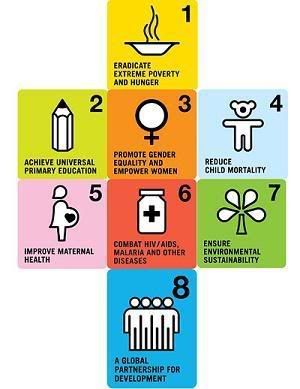 That's right - today (ok, I know it's not the first day of Christmas), Sen. Barack Obama introduced the Senate version of the Global Poverty Act, a piece of legislation that Bread for the World and its partners are very keen on seeing passed. Essentially, as the link above will tell you, the "GPA" will make it a matter of public policy for the U.S. to do its part in achieving the Millennium Development Goals, among other things.
That makes the timing especially relevant for debate when juxtaposed with this article in today's New York Times (yes, I love reading the New York Times): U.S. Agency's Slow Pace Endangers Foreign Aid
The front page article details how the bipartisan-supported Millennium Challenge Corporation, which was created by the President to specifically give a vehicle for America's role in helping achieve the MDGs, is in danger of having it's at least half of its money cut "up front" in the future.
"[MCC] officials and the African leaders they assist said in recent interviews that the change would be a big step backward. American foreign aid often takes the form of modest, short-term projects that are planned in Washington and carried out by American contractors and charities. But under the [MCC's] approach, poor countries with sound economic policies and strong track records of helping their people are chosen to conceive and carry out big undertakings themselves.
The Millennium Challenge Corporation's budget now makes up less than 10 percent of the United States foreign aid budget."
Furthermore -
"In small, poor countries like Burkina Faso (or Ghana - my note), every burp and hiccup of an aid agency like the Millennium Challenge Corporation is news — and often front page news. David Weld, the agency's country director for Burkina Faso, said he did not know how he could face people there if Congress did not come through with enough money to help them.
"What type of message does that send to Burkina Faso, a country that has spent a huge amount of political capital and money on this process?" he asked. "What does that tell the Togos, the Nigers that want to become eligible? It tells them: Do everything like Burkina Faso, make all these reforms, spend millions of your own money, and then maybe at the end we might be able to sign a compact with you — or maybe not."
Read the link above for the full story, and once you do, I hope you'll find this editorial cartoon I found as applicable as I did for what's needed in "keeping the fire lit for the MDGs" - notice that "campaigning" (i.e. advocacy) is one of the supports!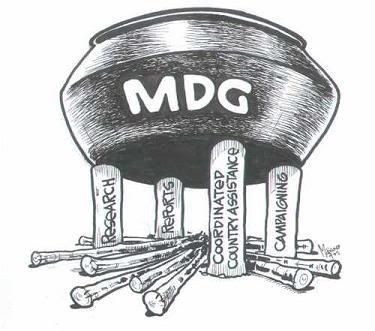 « "the hungry don't have much of a lobby" Key Votes on Farm Bill Amendments »